AID & DEVELOPMENT ASIA SUMMIT HIGHLIGHTS ROLE OF INNOVATIONS AND COLLABORATION IN IMPROVING AID DELIVERY AND STRENGTHENING HEALTH RESILIENCE IN SOUTH-EAST ASIA

The 2nd annual Aid & Development Asia Summit was held in Bangkok, Thailand on 21-22 June 2016 at the United Nations Conference Centre. The two-day Summit gathered over 275 local, regional and global humanitarian and development professionals from NGOs, UN agencies, donors, governments and the private sector gathered together with an aim to share knowledge, foster interaction and partnerships, gain information on the latest trends, discover success stories or learn from failures, hear about new and effective products and services to assist the Sustainable Development Goals (SDGs) in South-East Asia.
The 45+ expert speaker panel shared valuable insights, lead thought provoking discussions and lively exchange of views on a range of vital topics including mobile innovations, partnerships and technologies for humanitarian and development work, emergency response, humanitarian logistics, disaster resilience as well as health & WASH programmes and good practice.

The Summit featured 16 exhibiting companies showcasing cutting-edge products, including B Medical Systems (Gold Sponsor), Sanofi Pasteur (Summit Supporter), Inmarsat Global, JCB South East Asia, TÜV SÜD Water Services (Bronze Sponsors), Coleman Japan Co., Danoffice IT, Greenlight Planet, New Holland Agriculture and CNH Industrial, NRS International, Portsmouth Aviation, RMA Group, Shobikaa Impex Private limited and Duranet LLIN, Thuraya Telecommunications Company, TrapBag Flood & Erosion Protection as well as Johnson & Johnson and SATMED (Sponsors).

Media and event partners included American Chamber of Commerce in Thailand (AMCHAM), Asian Disaster Preparedness Center (ADPC), Asian NGO, Asia Society for Social Improvement and Sustainable Transformation (ASSIST), Crisis Response Journal, Development Finance, Developing Telecoms, Global health Council, Relief Web, UN Development Business, Thailand Business News, Asian Military Review, The Malaysian Times, South East Asia Globe, Alliance Magazine, Research SEA, SciDevNet, Emergency Manager's Weekly Report, NGO News, Humanitarian Logistics Association, Logistics Matter and Market Publishers.

Sonja Ruetzel, Event Director, Aid & International Development Forum (AIDF) addressed the audience with opening remarks emphasizing the importance of innovation and cross-sector collaboration in delivering aid and improving health resilience South-East Asia and the Pacific.

The Aid & Development Asia Summit was very helpful and beneficial in terms of meeting people, networking and listening to different points of view as well as experiences- Fluberta Koroveshi, Senior Regional ICT Officer, UNHCR
Overall very beneficial with diverse cross section of people - private companies/vendors, government and NGOs – Brian Hoyer, Director, Recovery Programmes, AmeriCares, USA
The AIDF Asia Summit was useful and practical; I will recommend it to my colleagues- Amnat Barlee, Relief and Community Health Bureau, Thai Red Cross
The event gives good benefits to participants to learn from each other, not just the speakers – find new innovative ideas and the involvement of all sectors – NGOs, government, private sector and UN agencies. The event is interesting and I will recommend it to my colleagues and others- Keo Keang, Country Director, Heifer International, Cambodia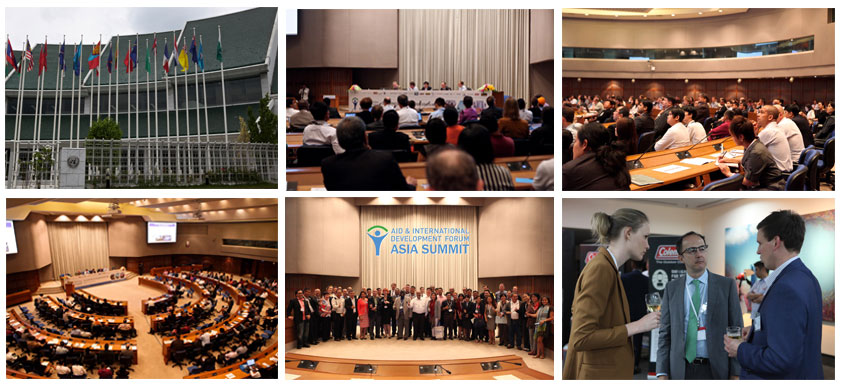 The opening panel of the Aid & Development Asia Summit 2016 focused on mobile innovations for humanitarian and development work. Moderated by Brian Kelly, Regional Advisor for Asia and the Pacific, Emergency and Post-Crisis Unit, International Organization for Migration (IOM), the diverse panel discussed the impact of mobile devices on development work and utilising mobile technology to better reach and engage communities.

Hans van Rijn, Principal Evaluation Specialist, Asian Development Bank (ADB) argued that improvements in broadband connectivity can be a game-changer in the Pacific, provided that four complementary pillars come together. Those are (i) infrastructure, (ii) regulatory framework / affordability / universal access; (iii) strategies on maximizing the use/socio-economic benefits of ICT; (iv) awareness: communication strategies around the potential benefits of improved connectivity.

Jonathan Tsuen Yip Wong, Regional Adviser on Science, Technology & Innovation - Trade, Investment & Innovation Division, UN Economic and Social Commission for Asia and the Pacific (UNESCAP) focused on how digital technologies can facilitate open and inclusive approach to innovation by democratising innovation and engaging marginalised communities in the process of innovation and forging partnerships and collaborations. Drawing on experience from DFID and emerging strategy in the UN, he discussed the role of digital technology in empowering people we are trying to help and what is necessary to scale up.

Steve Rynecki, Regional Innovation Advisor, Economic Growth Officer, United States Agency for International Development (USAID) outlined mobile data trends in the Asia Pacific region and highlighted importance of ICT access. Instead of citing multiple cross-sector examples, he focused on the mobiles for disaster risk reduction 'vertical' to outline current situation.

Josh Woodard, Regional ICT & Digital Finance Advisor, FHI 360 talked about how mobile innovations can facilitate improved cash management in humanitarian and development work.

Summit was very useful from a content perspective and networking opportunity- Sammy Njoe, Regional Chief ICT, UNICEF, Thailand

It was useful, many discussions were pertinent and up to the point- Dulip Tillekeratne, Senior Manager, GSMA, Sri Lanka

Lots of information and very well attended- Lisa Joerke, Asia Regional Platform Coordinator, Plan International, Thailand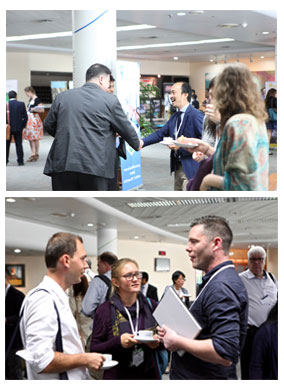 Following the panel, Nada El Marji, Director, Aid & Development, Inmarsat Global discussed how satellite connectivity can enable successful delivery of the SDGs.
Innovation Pitch by Thomas Bjørn Hestbæk, Key Account Manager, Danoffice IT was followed by presentation on addressing bribery and corruption in humanitarian logistics by Anne Signe Hørstad, Project Coordinator, Transparency International Norway.

After the networking lunch, the Aid & Development Asia Summit 2016 resumed with the panel on emergency response collaboration moderated by John Abo, Program Manager, Deputy Chief of Party of the Program for Enhancement of Emergency Response (PEER), ADPC.

Anna Law, Programme & Policy Officer, United Nations World Food Programme (WFP) discussed new initiatives and guidelines for emergency response in Asia Pacific and how to realign emergency assessment and humanitarian operational timelines, while Junichi Hirano, Deputy Director, Secretariat of Japan Disaster Relief Team, Japan International Cooperation Agency (JICA) spoke about JICA's assistance for disaster and emergency health response and post-disaster management.

Marko Kasic, Founder, FundLife International stated that 99% of children in crisis situations see education as a priority. He also presented a case study on how to better engage with local partners and communities affected by Super-Typhoon Haiyan in Philippines.

Meimei Leung, Humanitarian Emergency Affairs Director, East Asia Region, World Vision International discussed accountability for transitioning from disaster response to community development
Innovation Pitch by Yutaka Nakazato, President and Representative Director, Coleman Japan Co.

Excellent location, great setting for discussions and excellent opportunity to network with participants- Charles Ngui, Regional Coordinator, International Disaster Response Network, Singapore

The AIDF Asia Summit gave me ideas to broaden my perspective to potentially apply to product innovation- Jaime Lau, General Manager, Coleman Japan Co

The Summit is informative, updated and supportive for different sectors working in different countries. Based on the information, we can apply the appropriate actions in the implementation- Kyaw Myat Thu, Project Manager, CESVI, Myanmar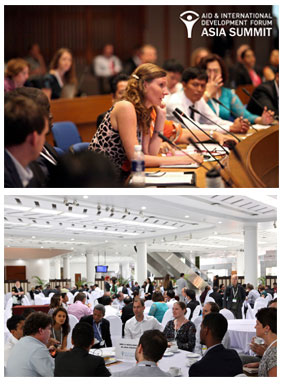 The next panel addressed post-disaster management and building resilience with Pannapa (Aimee) Na Nan, Department of Disaster Prevention and Mitigation, Ministry of Interior, Thailand, as a moderator.

Martin Sommer, District Manager, Thailand, JCB Southeast Asia presented examples and common challenges in recent post emergency work as well as discussing JCB's approach to building long-term partnerships and supporting the communities to improve resilience.
Adesh Tripathee, Lead Disaster Risk Reduction & Recovery for Asia-Pacific, Habitat for Humanity International presented case study on "Build Back Better' project in Nepal, which focused on building back better and more DRR conscious.
Jose Ravano, Director, Humanitarian and Recovery, Save the Children shared an engaging and wholesome overview of the true meaning of resilience, surprising the audience with new approaches and questions, such as 'Who is the most resilience character on Game of Thrones?'

The AIDF Asia Summit was very useful, highly recommended- Shiv Ganiga, Regional Business Manager, JCB, Singapore

Yes, it is very interesting and useful. I would recommend it to my colleagues and partners organisations- Pwint Mon Kyi, Sub-Grant manager, Save the Children International, Myanmar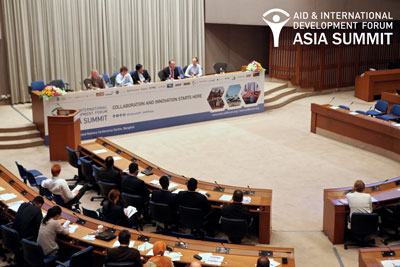 The participants had an opportunity to engage in an informal roundtable discussions and share their experiences with the group or ask more specific questions around R&D for Technology Innovations, led by Steve Rynecki, USAID; Supplier Relations and how to improve the supplier relationship management and long-term, led by Martina Aureli, NRS International; WASH Partnerships and Initiatives in the Asia Pacific region with Lalith Dassenaike, Consultant International Development; Partnerships for Health Programmes with Dr Nyunt Naing Thein, International Rescue Committee; Emergency Communication with Communities facilitated by Sammy Njoe, UNICEF; Disaster Risk Reduction & Resilience in Asia Pacific with Hans van Rijn, ADB; and specifically focused networking groups on the countries of the Philippines and Myanmar with Barry Whittle, Population Services International.
There was also a closed session on Dengue Vaccination Adoption on drivers, barriers, and how to overcome possible barriers to its adoption lead by Dr. Angus Thomson, Senior Director, Vaccination Advocacy, Sanofi Pasteur and Jean-Antoine Zinsou, MD, Senior Director, Public Affairs and Advocacy - Dengue, Sanofi Pasteur.
The final discussion of the day was on lessons learned from Nepal with participation of Brian Kelly, IOM, Mona Laczo, BBC Media Action, Brabim Kumar, President, Association of Youth Organizations Nepal (AYON) and Siemon Hollema, Senior Programme & Policy Officer, WFP. The panel was moderated by Yuan-Kwan Chan, Editor, ReliefWeb. Click here to see the video by AYON, as displayed at the Summit.
Day One at the AIDF Asia Summit concluded with an evening reception. The audience was exposed to latest technologies and innovations from carefully selected solution providers presented at the exhibition as well as unparalleled networking opportunities with key decision-makers.

It is very useful for our lifeline training programme of BBC Media Action, getting a lot of knowledge of other country perspective programmes- Htun Htun Lynn, Training Coordinator, BBC Media Action

This Summit is a combination of learning and experience so is beneficial to every stakeholder but the level of discussion varied with brief and some too detailed- Muna Thapa, Finance Officer, AYON, Nepal

Very interesting for humanitarian aid and emergency health response collaboration with new technology, I would recommend to friends and other NGOs- Dr. Kasem Kolnary, Director, CHEC, Cambodia
The second day kicked off with an opening keynote speech by Dr. Pathom Sawanpanyalert, Acting Senior Expert in Health Promotion (Public Health Physician), Health Technical Office, Office of the Permanent Secretary, Ministry of Public Health, Thailand.
The following panel provided an update on health programmes for disease prevention and control in Asia, including malaria, TB, HIV, dengue fever, moderated by Michael Cole, Monitoring and Evaluation Practitioner, Public Health Specialist, previously a Senior Regional Program Manager for Health and HIV at AUSaid.
Soe Naing, Executive Director, International HIV/AIDS Alliance shared experience working with the community on HIV/AIDS and sexual and reproductive health, using an innovative model to increase involvement of private clinics, mobile applications and software.
Jean-Antoine Zinsou, Sanofi Pasteur, talked about role of dengue vaccination in an integrated strategy for dengue prevention and control.
As one of the most pressing health topics, Dr. Nyunt Naing Thein, International Rescue Committee, presented a case study on supporting and promoting maternal and child health at Myanmar Thailand border (Post Conflict Areas).
After the networking break, the participants heard from Luc Provost, CEO, B Medical Systems (Gold Sponsor) on state-of-the-art cold chain solutions. Take a look at the B Medical Systems video, as shown at the Summit. Also, videos about Data Logger and Health Centre
The next panel focused on health innovation and collaboration to support sustainable development goals, moderated by Dr. Siddhi Aryal, Asia Director, Malaria Consortium.
Martina Aureli, NRS International provided an introduction to the session talking about how NRS International collaborates with other actors in the humanitarian and development sector to ensure the creation of innovative and practical solutions.
Sebastien Latouille, Delegate for Asia-Pacific, Telecoms Sans Frontieres shared recent mobile health projects in Myanmar, Nepal and Syria with an aim to explain the challenges NGOs are facing in implementing such projects.
Alan Kuresevic, Vice President, Engineering Director, SATMED talked about multilayer e-health platform, which uses satellite internet connectivity to address issues in the sharing of medical information, by providing health professionals with vital tools for day-to-day tasks.
Dr. Hemant Shah, Chief of Party, Bihar Technical Support Programme, CARE India, shared insights on how CARE India is using mobile technologies to strengthening health initiatives and supporting the Sustainable Development Goals.
What followed was a presentation on emergency health response, delivered by Dr. Anurak Amornpetchsathaporn, Director of Bureau of Public Health Emergency Response, Office of the Permanent Secretary, Ministry of Public Health, Thailand.
After the networking lunch, Lalith Dassenaike, Consultant International Development (Water Resources Development, Climate Change & Knowledge Management) moderated panel on WASH innovations and good practice.
Anna Hrybyk, Program Coordinator for Typhoon Haiyan Recovery Programs, Catholic Relief Services shared insight into ensuring access to safe drinking water and sanitation after natural disasters in the Philippines.
Dr. Bella Monse, Adviser for Research and International Relations and the Principal Adviser of GIZ FIT ARMM, Deutsche Gesellschaft für Internationale Zusammenarbeit (GIZ) talked about Fit for School Program and WASH in Schools initiative, highlighting the importance of cross-sector collaboration. She emphasised need for technical expertise and support from other sectors, institutional and political will as well as agreement between development partners on the direction.
Gerald Kresta, Growth & Optimization Leader, TÜV SÜD Water Services, introduced the 'Reinvented Toilets', a technical standard for new and innovative sanitation technologies. TÜV SÜD has developed this project/approach on behalf of the Bill & Melinda Gates Foundation. Furthermore Gerald introduced further tools, which support the adaptation of new technologies in developing countries while building capacity and increasing technical expertise (examples are technical guidelines, standard operating procedures, installation/O&M guidelines, technical trainings, capacity building, etc.).
Nick O'Regan, Director, Jerusalem Office; Head of Project Management and Infrastructure Centre of Excellence, United Nations Office for Project Services (UNOPS) and Dr. Matt Ives, Systems Modeller, Oxford University presented Systems of Systems Approach to Infrastructure.
The concluding panel at the AIDF Asia Summit 2016 focused on big data and collaboration, knowledge management and sharing, moderated by Mathieu Vergez, Country Manager - Cambodia & Myanmar, ASSIST.
Margarita Guerrero, Director, Statistics Division, UNESCAP highlighted importance of improve data awareness, social networks and data exchange among aid and development stakeholders, while Victoria Leat, Southeast Asia Program Advisor, Pacific Disaster Center talked about DisasterAWARE (All-hazard Warning, Analysis and Risk Evaluation), an integrated platform providing situational awareness, decision support, and information exchange capabilities to disaster management decision makers.
Simon Gee, Managing Director, TechSoup Asia Pacific, spoke about data sharing through crowd sourcing and open source knowledge solutions.
Over both days participants discovered innovations and applications of new technologies, learned about other programmes in their region, exchanged experiences with peers and have met existing and new partners. The Aid & international Development Forum is already looking forward to the next Asia Summit, and for now would like to leave you with one of our favourite quotes from the Summit:
'Tech is an influencer of mind-set'.

Beneficial in communication in development and from networking, I would recommend my friends and colleagues to attend AIDF Summit – Aye - PAye Khine, Managing Director, Asia Development and Green-Growth Association

Summit is very important indeed. The AIDF has created an opportunity for both serviced providers and receivers in a common platform. It's wonderful indeed, such a nice platform to hear both service providers and receivers come under one umbrella, committed to work for disaster resilience development with new innovative ideas- Abu Murshed Chowdhury, Chief Executive, PHALS, Bangladesh

Beneficial and practical and recommended to colleagues- Paul Gwyn L. Pagaran, Country Director, AmeriCares, Philippines

Very beneficial to see things from innovative and collaborative aspects from different angles and sectors- Kmi Kmi Seinn, Director, Youth Pillar Founder, Moving Forward Together, Myanmar