Impact of Natural Disasters and Outlook for 2016
26 February 2016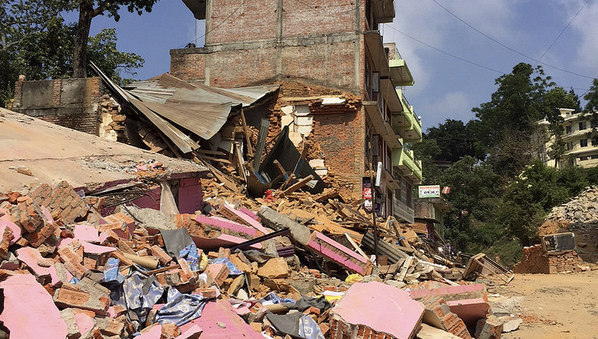 Nepal earthquake that happened in April 2015 has killed approximately 9,000 people. A recent study by Jeff Kargel, the scientist at the University of Arizona, has revealed that the destruction could be "far worse". The study was published in January issue of the Science, a magazine by American Association for the Advancement of Science, and presents overview of 4,312 landslides that occurred both during the quake and its aftermath between 25 April and 10 June with the use of satellite images of disaster zone and the earthquake's centre in the Kathmandu Valley. The data gathered included areas where the landslides affected local populations and was compared to similar magnitude earthquakes. The results showed that the effects of the earthquake could have been worse.
The message of the study is that if earthquake could have been more devastating this should encourage the Nepalese government and international aid agencies to make the use of existing data to prepare for future quakes.
"It may alert officials in Nepal and aid and development agencies and corporations in Nepal and around the world that Nepal needs to attend to improved construction and improved land use zoning and improved adherence to land use zoning and building codes," said Kargel.
A study by the UN office for disaster risk reduction (UNISDR) revealed that earthquakes and tsunamis killed 9,525 people and affected 7.2 million people in 2015, while landslides triggered by heavy rains killed 1,369 people and affected 50,332.
Nepal's neighbouring country, India, was among the top three most disaster-hit countries in 2015, where 19 natural disasters occurred, bearing $3.30 billion economic damages. A total of 98.6 million people were affected by natural disasters in 2015. Amongst other countries affected by events of natural disasters, like floods, droughts​and heatwaves, was China (26), the US (22), Philippines (15) and Indonesia (11).
Overall, there were 32 major droughts globally last year, which affected 50.5 million people, states the UNIDSR report 'The Human Cost of Weather related Disasters'. The World Meteorological Organization (WMO) revealed that 2015 was the hottest year to date from the beginning of this monitoring service 136 years ago. The report has also warned that severe droughts will continue worldwide in 2016. However, natural disasters like droughts do not get enough attention from media or governmental. Yet they have the most persistent impact on development, such as migration.
"2015 really was a year of drought. This is going to be a problem with us in 2016, and maybe, ​even ​ in 2017," said Dr Debarati Guha-Sapir, Director of Centre for Research on the Epidemiology of Disasters (CRED), that has co-sponsored the report along with the UNISDR.
The year also saw an active cyclone season in Asia and Pacific with 37 cyclones and typhoons resulting in 996 deaths and affecting 10.6 million people, according to First Post.
These topics, amongst others, will be discussed at the upcoming 2nd annual AIDF Asia Summit taking place on 21-22 June 2016 at the United Nations Conference Centre in Bangkok, Thailand and 8th annual AIDF Global Disaster Relief Summit taking place on 7-8 September 2016 at the Ronald Reagan Building and International Trade Center in Washington DC. If you would like to contribute to the discussion on how to improve aid delivery and emergency response or share innovative solutions that focus on building resilience to disasters and climate change, please get in touch with aokeeffe@aidforum.org
Image source: SciDev