Philippines hit with deadly landslides after super typhoon
24 September 2018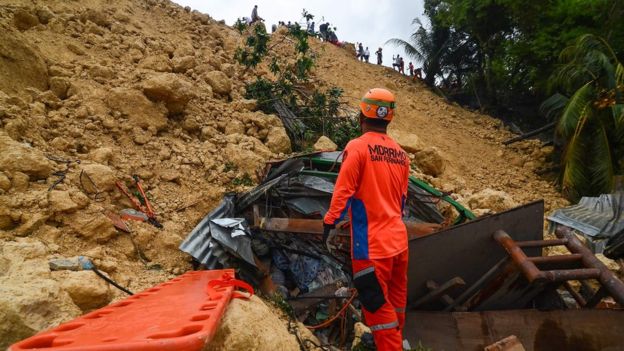 Landslides caused by the severe rains of super Typhoon Mangkhut have killed dozens of people in the Philippines. This weekend, a steep slope in a quarrying community in Naga City, Cebu, collapsed and buried 60 houses in at least eight feet of mud. The death toll from Typhoon Mangkhut reached 80 and the deaths from the resulting landslides is just under 50, as of this weekend.
The landslide occurred near a former limestone quarry, which could have destabilised the land on that hillside. According to local media, local authorities had previously identified the area as being a landslide risk. This latest disaster comes just a week after Benguet, a small mining town, was hit with a landslide of its own that killed at least 32 people.
Following the deadly incident in Naga City, Environment Secretary Roy Cimatu suspended quarrying in the regions of Ilocos, Central Luzon, Calabarzon, Bicol, Central Visayas, Northern Mindanao, Davao, and Caraga. Philippine officials say that gold mines tunnelled by big mining companies and by unauthorised small miners have made the hillsides unstable and more prone to landslides.
Search and rescue teams continue to look for survivors but face many challenges, including persistent heavy rains and loose soil. Gary Cabotaje, a city government spokesman, explained to ANC news channel:
"The responders have to be careful in the retrieval and rescue operations. Most of them are using pickaxes and shovels because it's dangerous to use heavy equipment."
Rescue efforts began at 6 am Thursday, and responders have since been digging through debris and thick mud to look for survivors. Local officials report that nine people have been rescued and 25 bodies have been recovered. According to UN Office for the Coordination of Humanitarian Affairs, 128,000 people remain displaced as a result of the typhoon and resulting landslides.
If you'd like to stay informed on the latest updates in aid and development, please sign up for the AIDF newsletter.
Photo Credit: AFP