Call for speakers for Aid & Development Asia Summit 2017
09 February 2017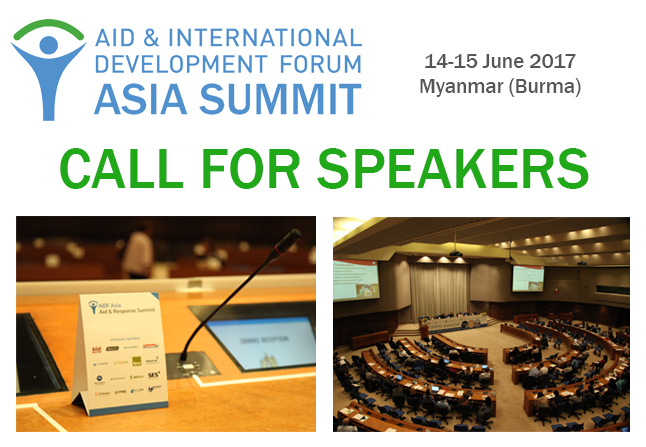 Would you like to share your expertise and knowledge on how technological innovations & best practice can improve aid delivery & development strategy?
The Aid & Development Asia Summit 2017 is an exclusive platform uniting regional and global expertise, offering an unparalleled opportunity for knowledge exchange, cross-sector engagement and collaboration.
As part of our expert speaker panels you will be able to share your knowledge, insight, and help lead thought-provoking discussions during this two day event. We strongly encourage you to take advantage of this opportunity and let us know if you would be interested in participating!
Be part of this year's Aid & Development Asia Summit and:
Compare your approaches with peers and build long lasting partnerships and alliances with UN and government agencies, NGOs, donors, and the private sector
Hear latest policy and project updates and influence the debate on improving humanitarian aid operations and infrastructure resilience – especially in Myanmar
Exchange best practice and discover innovations in health & WASH, agriculture and infrastructure resilience, humanitarian logistics, use of (mobile) technology for development programmes
Gain first hand insights from development banks, donors and government agencies on their financing priorities and funding guidelines

The agenda: http://asia.aidforum.org/agenda Please send your proposals to: pcosta@aidforum.org