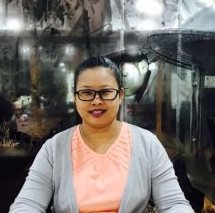 Aye Kyawt Swe
Agricultural Technical Advisor and Project Coordinator
Mercy Corps
I have been working for Making Vegetable Markets Work program in Mercy Corps for 3 years. This project is Market System Development Project. We are also working for policy reinforcement as a crosscutting issue in the program.
Before joining Mercy Corps, I worked for GRET in Delta for Community Agro-Economic Development and CESVI in the Dry zone for Livelihood Project. Since the program is Public Private Partnership Approach, we are working with partners to implement the project activities.
I had little experience in doing research for Climate Change Resilience in Rice and Maize production.
I had worked for 7 years in Private Sector before jumping into the development sector. My background is Sustainable Agriculture Development in Master Degree.