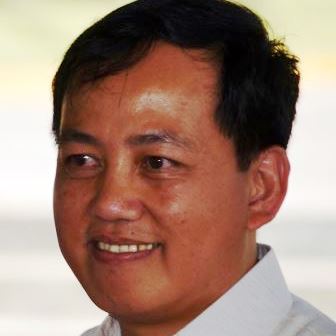 Diosdado P Wana
Programs Lead
Humanitarian Leadership Academy - Philippines Center
As Programs Lead, Dong provides leadership, support, and coordination for all the Academy Centre-supported projects in the Philippines ensuring consistency with the Academy's vision and strategic goals. Dong brings to HLA his wealth of experience gained over 26 years as a development and humanitarian professional handling technical, operational and management roles.
At Plan International, Dong rose through the ranks, joining the organization as a frontline staff in 1988. He moved to the Country Office in 2004 to take up his first senior management role as Sponsorship and Grants Manager. In 2006, he was appointed as Program Manager mainly responsible for country strategic planning, program development and technical oversight for the whole country program operations. He was a member of the country management team for 10 years and served as Acting Country Director for a cumulative period of more than a year. As Program Manager, he steered the development of the Country Strategic Plan 2010-2014 for Plan International-Philippines. In 2012, he was seconded to lead the development and writing of the Country Strategic Plan 2013-2017 for Plan International in Thailand. He likewise supported the initial stages of the strategic planning process for Plan International in Cambodia and took part in the pre-entry assessment for Plan International in one district in Laos.
Dong helped strengthen the capacity of Plan International in the Philippines on disaster risk management by developing its first Disaster Preparedness and Response Protocols and its Disaster Risk Management Strategy. He initiated the formation and training of a staff roster for emergency response. He led post-disaster rapid needs assessments, disaster response planning and implementation between 2006 and 2013. Dong was responsible for developing an integrated program and strategy for conflict-affected areas in Mindanao which eventually paved the way for Plan Philippines' entry to do regular programming in the area. He authored the organization's Partnership Strategy, Policy on Partner-Managed Projects, the Partner Capacity Assessment Tool and the Partner Capacity Assessment Guide.
Dong left Plan International in 2014 and joined the International Institute of Rural Reconstruction (IIRR) as Program Director for the Regional Center for Asia. As Program Director, he was a member of IIRR's global and regional management teams. He was also part of IIRR's Strategic Planning Working Group that spearheaded the preparation of IIRR's global and regional strategic plans for 2016-2020. He served as Project Lead for the Global Learning Alliance – a platform for south-south sharing and learning among livelihood promoting institutions and individuals on pro-poor agricultural value chains and financial services covering Asia, Eastern Africa and Sothern Africa.
Dong decided to leave IIRR in 2015 to become an independent consultant before deciding to join HLA.