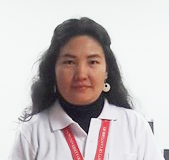 Ei Ei Htwe
Director, Logistics Department
Myanmar Red Cross Society (MRCS)
Ei Ei Htwe is working with Myanmar Red Cross Society (MRCS) as Director of Logistics Department. She graduated from Yangon University in 1999 specialized with in Mathematics and earned a Diploma of Logistics and Transport Management.
She joined MRCS as a volunteer since 1990. She started working with MRCS as Logistics Officer in Mid-2008.And promoted as Director in 2015. She is also a member of the International Federation of Red Cross and Red Crescent Societies (IFRC), Regional Disaster Response Team (RDRT).
She is responsible for logistics of the National Society's emergency relief and recovery operations which is critical to the success and timely delivery of the Red Cross humanitarian services to the vulnerable population.